THE LATEST NEWS from The George of Stamford ... as ever, all subject to change…

THE GEORGE HOTEL OF STAMFORD is now in TIER 3, together with the whole of Lincolnshire and much of the country. Unfortunately, we continue to be fully closed following Lockdown 2 and the new Tier 3 restrictions.

We are anticipating being able to move to Tier 2 after the next government announcement on 16 December and re-open on SATURDAY 19 DECEMBER for Christmas and New Year's Eve and into 2021. We are at present surrounded by Tier 2 areas - Cambridgeshire, Rutland and East Northamptonshire. Sadly, we are unable to take any reservations from those of you in Tier 3 until the announcement on 16 December.

The Hotel telephones are "manned" seven days a week and, as you can imagine – are incredibly busy. Reservations are taking bookings for Christmas and New Year and into January and 2021 – the feeling is that of coming to where you know you will be looked after, in a virtually unchanged manner, in safety and with true care and attention to detail. Bookings for early December have mainly been changed to future dates! Thank you for taking this all in your stride!

If you are holding a booking with us, we will be in touch with you very shortly to go through the details, or Reservations may well have called you already. With this in mind, we are dealing with Dining and Room Reservations strictly in accordance with the government guidelines. With everyone's health and safety at the forefront, we ask you, please, to respect others and abide by The Tier Rules. We may only take bookings for one household (living together), including the support bubble of one person, per table inside the hotel.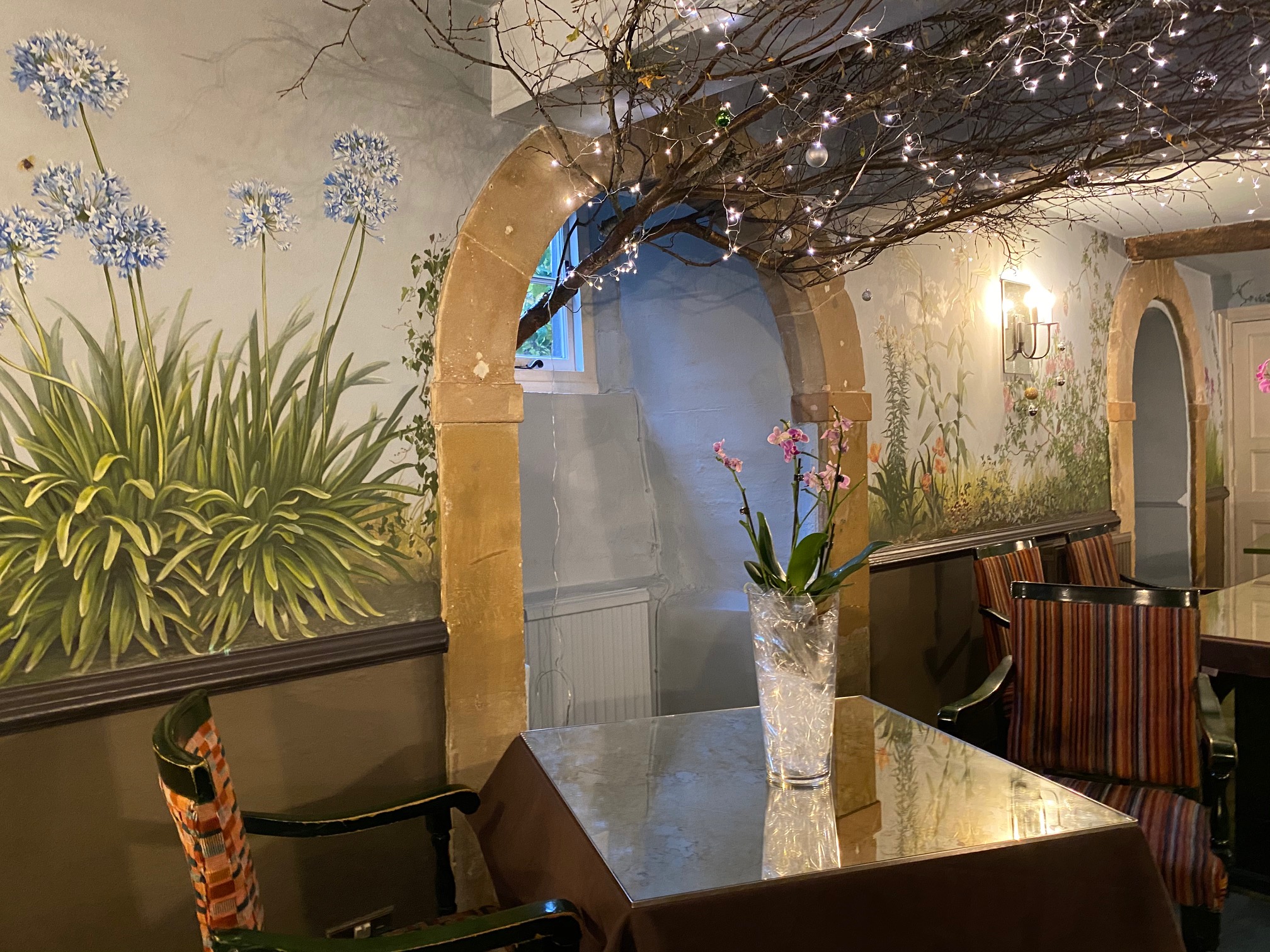 Outside in The Courtyard, under the heated Canopy, we can take À La Carte reservations (The Oak Room menu) for up to six people from different households living in Tiers 1 and 2.

Having written about all that we are obliged to...
As tradition holds, The Grande Dame of Stamford is fully dressed in her Yuletide finery and ready to gently 'dine and party on' in style ... the Hotel and Courtyard look simply magical - glittering softly, pine-scented, so atmospheric.
Umbrellas to protect you, heaters to help keep the nip of winter at bay, carefully spaced tables (some hidden amongst the Christmas trees) … wrap up well if you wish to eat outside.
Finally, Paul Reseigh - Chef Patron has been keeping himself busy – making his much-lauded Christmas Puddings. This tradition has come about by popular demand because you loved them and wanted one or more for home or a present! You are still able to buy them by telephoning the ever-helpful Reservations Team and coming to The George for collection…… even having a sneak preview of what awaits you when we re-open! The puds come in two sizes - medium (£15) and large (£20), wrapped in muslin and beautiful ribbon tie.

Thank you, and looking forward to better times.
SUBSCRIBE HERE - this is our "eyes and ears" method of contact. NO ONE will be privy to your details, we do NOT share with any third parties ... and you are able to un-subcribe at any time.