SUNDAY Roast Sirloin of Beef with all the 'accoutrements'
Telephone Orders 01780 750700 - 9am to 6pm daily
DELIVERY - FREE IN STAMFORD -
or COLLECTION from THE GEORGE between 10am-6pm
Wines and Champagnes now available for Order & Collection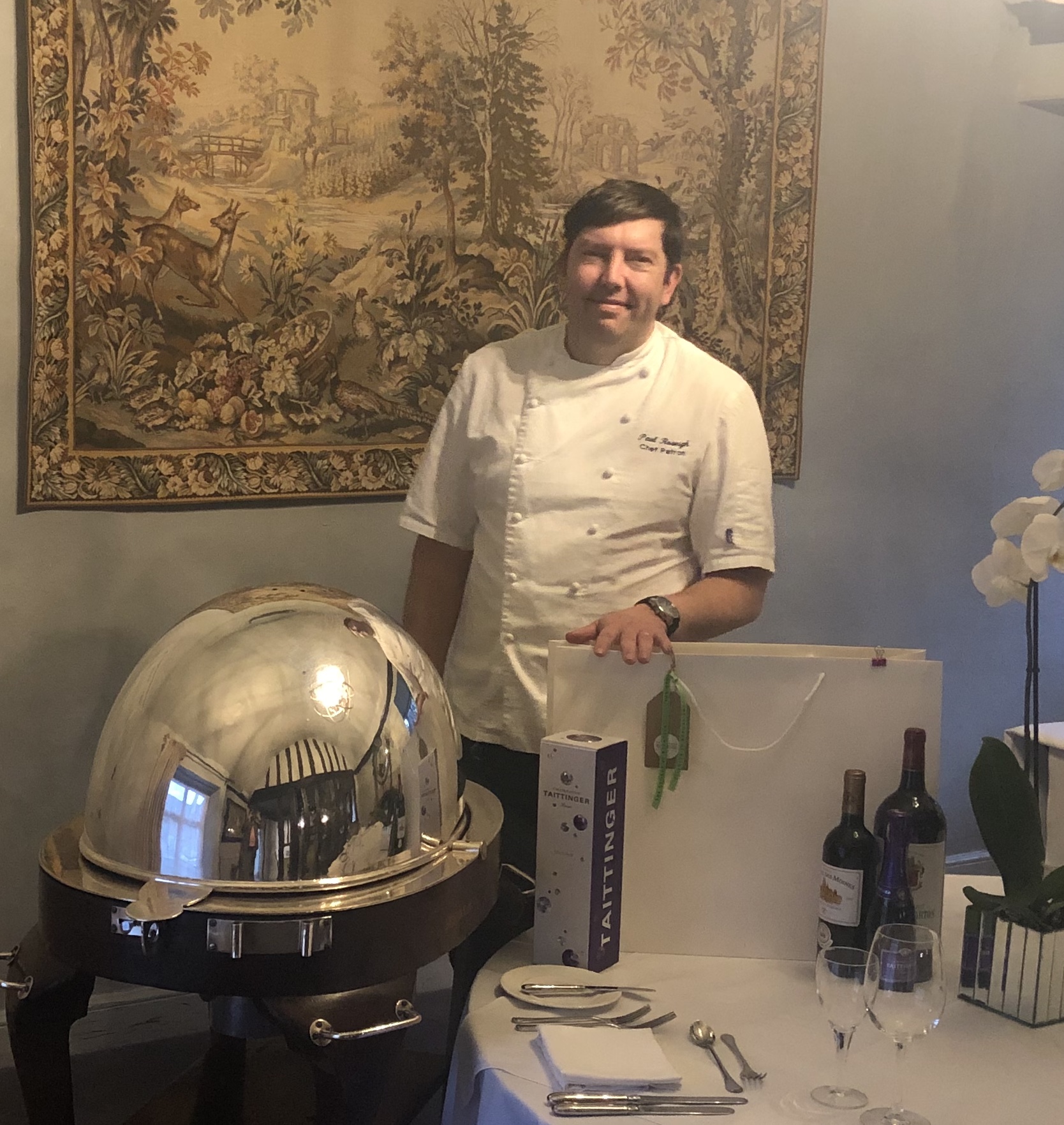 We are all yearning for pockets of 'normality' - and here is a great one! Tired of continual cooking and thinking of what to actually cook?... default to The George for a wonderful, totally enjoyable and relaxed Sunday Lunch!

The simply sublime Oak Room Roast Beef is back ... and in your own home! A prime and extremely generous Rib of Best British Sirloin Beef - a more manageable joint to that normally featured on The George of Stamford's silver carving trollies! Same amazing '28 day hung' cut of sirloin, same butcher, same chefs producing our iconic Sunday Lunch, for you.

So ... roast British beef on the bone, Yorkshire puddings, duck fat roast potatoes parsnips and carrots, panache of buttered green vegetables, cauliflower cheese, hot horseradish, beef gravy ... the epitome of The Oak Room's best in your own home. From starting cooking to your table in 45 minutes (medium-rare or to your own liking - thinly carved, exquisite!) ... bliss, and so simple... £60 for 2.

Why not make your Sunday lunch truly "The George" memorable by including starter, dessert or canapés and chocolate truffles.

If this doesn't tantalise your tastebuds, here is our far from standard 'Taste of The George in Your Own Home' menu.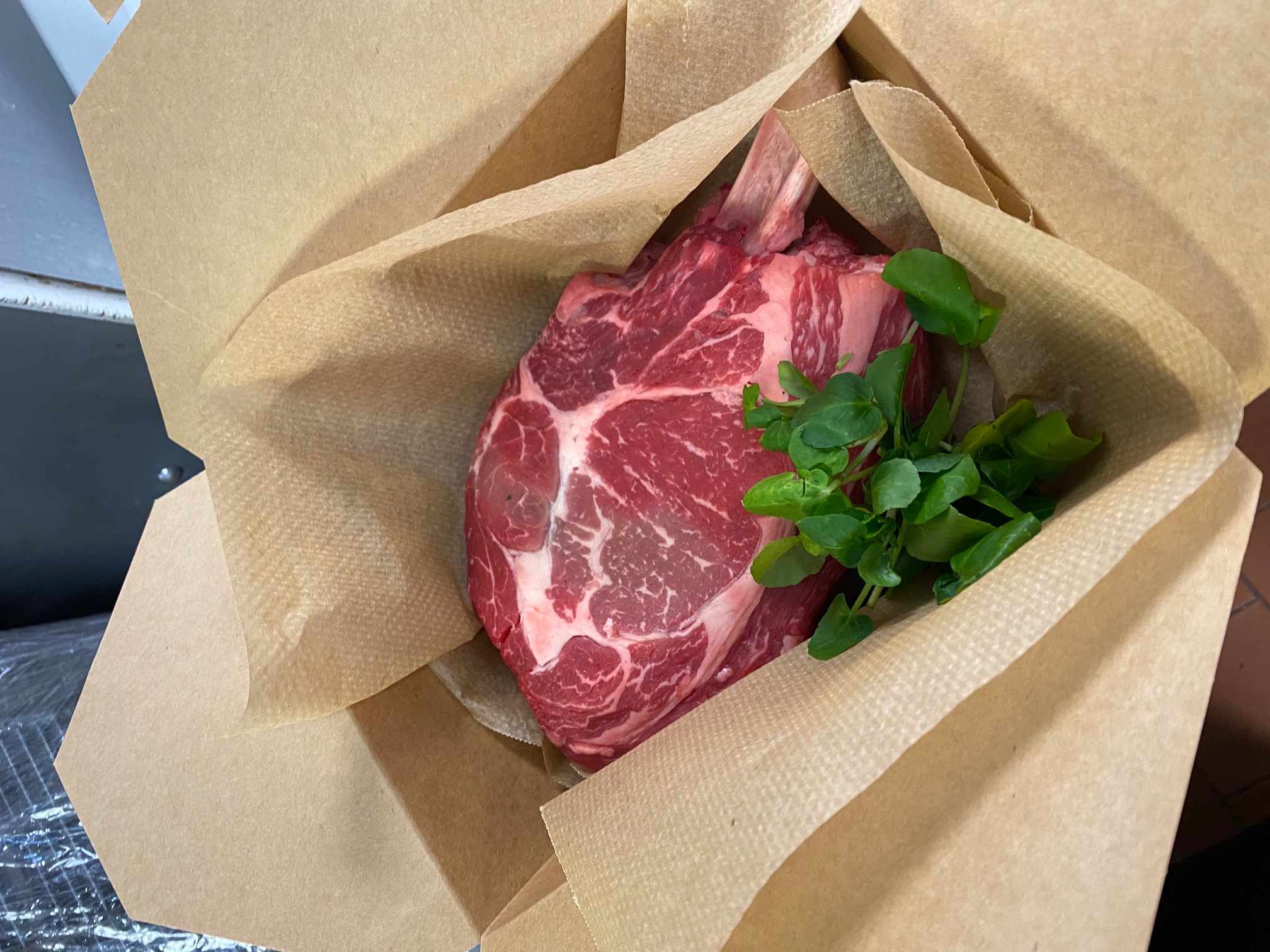 FIVE CANAPÈS - £10
Smoked Salmon, salmon caviar, chive fromage blanc
Steak Tartare, smoked egg yolk, game chips
Duck Liver Parfait, clementine gel, orange dust
Crispy Goat's Cheese Bon Bon, warm Bramley apple centre
Wild Mushroom Arancini, truffle oil, cèpe powder
Velvet Mushroom and Black Truffle Velouté - garlic croutons £7.50
Severn & Wye Smoked Salmon, Beetroot Cured Salmon, Salmon Gravlax – lime dill crème fraîche £15
Half Atlantic Lobster – garlic herb butter or Thermidor or lemon herb mayonnaise £17.50
Seabass 'en papillote' - middle cut fillet, bok choy, lemongrass, lime chilli coriander butter £25
Breast of Anjou Chicken - black truffle, confit garlic, little gem, jus £23
Fillet of Beef Wellington – forest mushroom duxelles, butter puff pastry, Burgundy jus £25
Spaghetti Aragosta - half Atlantic lobster, fine spaghetti, lobster oil, mild tomato chilli sauce £21
Sunday Roast Rib of Sirloin Beef – Yorkshire Puddings, duck fat roast potatoes carrots and parsnips, panache of buttered green vegetables, cauliflower cheese, hot horseradish, gravy £60 for two
VEGETABLES - £5
Tenderstem Broccoli – lemon herb butter
Creamed Spinach – garlic, nutmeg
Braised Red Cabbage – seasonal spices
Potatoes – choice of duck fat roast, buttered mash, dauphinoise
DESSERT - £8
The George's Sticky Toffee Pudding - caramel toffee sauce , clotted cream
Poached Williams Pear - spiced red wine syrup , ginger mascarpone
Orange Filled Profiteroles – Grand Marnier crème pâtissière, Belgian dark chocolate
CHOCOLATE TRUFFLES - £10 - two of each
Rum, Cointreau and Drambuie
CREAM TEA – a quartet of finger sandwiches, scones, Cornish clotted cream, butter, homemade strawberry jam, cakes and tartlets – £20 per person. What better way to celebrate a special occasion, send to friends, or just spoil yourself in these strange times ...
... why not add the ultimate 'tea time' Champagne - Taittinger Nocturne - half bottle of Taittinger Nocturne Champagne for £24 or, being seriously wicked and decadent (or not!), a bottle of Taittinger Nocturne Champagne for £44. You may wish to order additional Cream Tea for those also partaking! To comply with government restrictions, we are sadly only able to provide Champagne with deliveries.
Please telephone The Reservations Team with your order – 01780 750700 (9am to 6pm 7 days a week) – at least 1 day prior to your preferred collection or delivery. Full payment will be taken at the time of placing your order, prices are per person. Please advise us of any allergens or dietary requirements at the time of ordering. .

Wines, port and Champagne are available from our lists - The Short List and our Full Wine List - for DELIVERY and COLLECTION.
> SHORT WINE LIST > MAIN WINE LIST - 20% reduction on list price
SUBSCRIBE HERE - this is our "eyes and ears" method of contact. NO ONE will be privy to your details, we do NOT share with any third parties ... and you are able to un-subcribe at any time.