THE GEORGE IS SO HAPPY ... !
THE GEORGE HOTEL OF STAMFORD has been overwhelmed by the delightful and positive reactions of our customers since awakening from her enforced slumber on 4 July. Paul Reseigh - Chef Patron - and The Entire Team are simply thrilled by the enthusiastic return of those wishing to soak up the atmosphere always offered by The George, having created a safe, secure, and conscientious embrace! There is new sanitisation and ionisation equipment throughout the hotel, and continuous awareness, both by our staff and clients, enhancing the equilibrium of security.
Time has flown in the strangest way – almost surreal – as the season changes down a gear. We now look forward to an 'Indian summer' – The Courtyard awaits such days and evenings, as does our 'pop-up' Monastery Garden Bar Brasserie which has gained a strong following as a new string to The George's bow.
The George follows the brilliant French tradition of ' restaurants with rooms' and we are immensely proud of the well-deserved reputation that our Kitchen Brigade has earned, together with our extremely special and individual bedrooms. Holidaying in Britain has become the 'new norm', and guests are seeking short breaks or even a night of wining and dining - the locals are staying too, finding it hard to 'trump' The George. We are offering a 10% reduction on accommodation Tuesday to Saturday, and 20% on Sunday and Monday if you eat with us. You may choose from The Oak Room, under The Canopy, The Courtyard or Garden Room, or in The Monastery Garden Bar Brasserie, the options are many.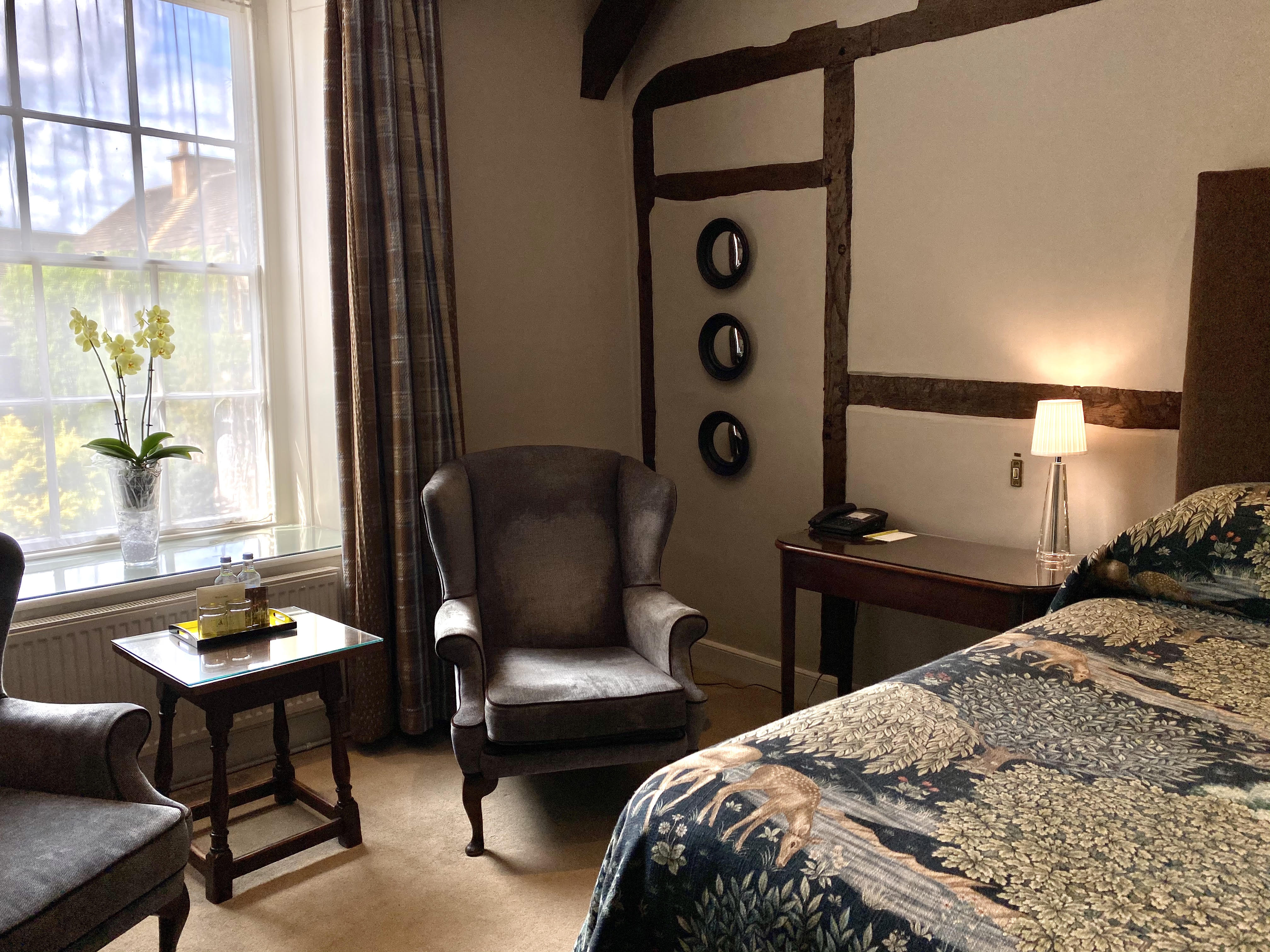 Our super-comfortable bedrooms have non-thermal ionisation cubes and special filters on the individual air-conditioning, ensuring clean air and relief from hot nights! Tea or coffee is brought to your room in the morning together with The Times and Daily Mail. A leisurely breakfast then awaits you in The Garden Room or Courtyard if the weather is clement, with traditional favourites and contemporary twists. Please contact The Reservations Team on 01780 750700 for further information and booking.

Thank you for your patronage and trust in these unprecedented times.