The Butcher's Block is BACK ...
from the 10 January 2019
EVENINGS, in The Garden Room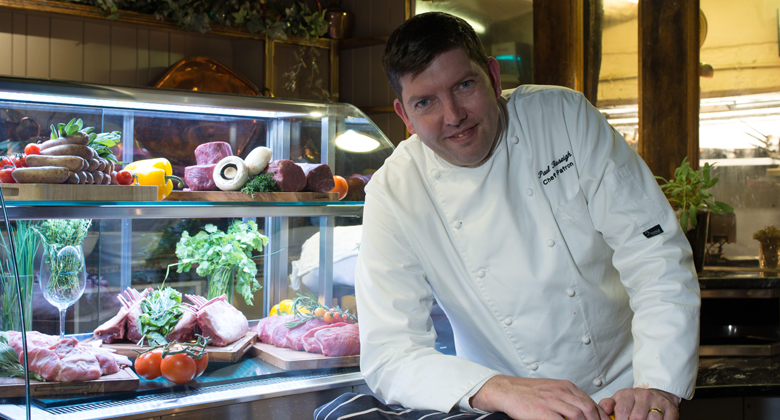 IN THE DEPTH OF WINTER EVENINGS...
..the Garden Room buffet will be transformed from the 10th January to 'the Butchers Block'. Paul Reseigh, Chef Patron at The George, has carefully chosen top class British meats, paying particular attention to taste, texture and provenance. Ray Camplejohn of Leicester, who has provided us with our meat for well over 40 years – a huge accolade in its own right, had great pride in presenting superb cuts to Paul for his final choices. Difficult!...
Delicious, tender. traditionally 28-day dry aged beef, lamb cutlets, a choice of 5, yes 5, different sausages, free range chicken, pork chop – excellent old fashioned British produce as it should be, and as we remember from days gone by.
Accompanied by homemade chunky chips, French fries, creamy mash, or baked jacket potato and sour cream with chives, plus salads from The Butcher's Counter – delicious sauces to enhance too, perhaps a glass of good red wine ...the world is your oyster!
Tomahawk steak, to be shared or, for the real carnivore, savoured alone...just unbelievably delicious! SURF' n' TURF is a modern, but totally scrumptious, twist on a theme – spoil yourself, have half a lobster with your steak! There is so much to whet the appetite...
Obviously all The Garden Room favourites, the full menu, are there for those who cannot be tempted...