SOLD OUT
JIM CLENDENEN of AU BON CLIMAT, CALIFORNIA
Gourmet Dinner with a Flight of 8 Au Bon Climat Wines to Match
Wednesday 11 March 2020 at 7 o'clock
The George is more than extremely lucky to have the extraordinary winemaker Jim
Clendenen - the 'mind behind' the super-successful Californian winery AU BON CLIMAT -
presenting his marvellous wines. Jim is a 'larger than life' character with a huge passion for
creating Chardonnays and Pinot noirs 'of balance and intrigue' strongly influenced by the
french wines and vineyards he first encountered during his lengthy visits in his early 20's.

We have had the pleasurable task of matching our menu to the elegant and sophisticated
'flight' of elegant Burgundian style wines from Jim's superb cellars at Santa Barbara. Jim takes
the utmost pride and care in producing his world renowned, classically influenced 'nectar',
and invites you to hear the fascinating journey of au Bon Climat.

This a very rare and special occassion – Jim is not easily inveigled to cross The Pond,
unless visiting the vineyards of Burgundy in the name of research and, naturally, pleasure.
We anticipate another great, enlightening and entertaining evening in the splendour of The Oak Room
THE GEORGE OF STAMFORD and AU BON CLIMAT
Gourmet Dinner – Wednesday 11 March 2020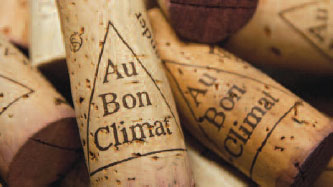 Canapés and apéritifs – The Walter Scott Room
2017 Au Bon Climat, Pinot Gris / Pinot Blanc, Santa Barbara Valley
Rabbit and Duck Liver Terrine, port and bacon preserve
2018 Au Bon Climat, Wild Boy Chardonnay, Santa Barbara County
2017 Au Bon Climat, Chardonnay, Santa Barbara County
Butter-fried fillet of Sea Bass, Caramelised Black Olive Crumb, preserved lemon gel
2016 Au Bon Climat, Hildegard, Santa Maria Valley
Roasted norfolk Quail, pancetta, creamed cabbage, truffle jus
2015 Au Bon Climat, La Bauge Au-dessus Pinot Noir, Santa Maria Valley
Cannon of Lamb, Braised Shoulder, Sweetbread Croquette, onion purée, capsicum ragout
2015 Au Bon Climat, Knox Alexander Pinot Noir, Santa Maria Valley
Stinking Bishop – pear perry washed rind
Vintage Lincolnshire Poacher – 22 months aged
Montgomery Cheddar – 14 months aged
Magnums of 2002 Au Bon Climat Chardonnay Nuits-Blanches au Bouge, Santa Maria Valley
Magnums of 2001 Au Bon Climat, Knox Alexander Pinot Noir, Santa Maria Valley
70% Cocoa Callebaut Dark Chocolate Delice, arabica Coffee Ice-cream, nut Brittle
Coffee – Petits fours
£115 per person
Carriages - 11.30
On this exciting occasion we are offering a very special accommodation price for our super
comfortable bedrooms, wonderful and traditional full english Breakfast, preceeded by tea and
newspapers in your room – relax and enjoy the evening to the absolute full.
In order to secure your place at The au Bon Climat Dinner, and enquire regarding
accommodation should you wish, please telephone our Reservations Team on 01780 750700
St MartIn's • Stamford • LIncolnshire PE9 2LB
Reservations: 01780 750700
reservations@georgehotelofstamford.com • georgehotelofstamford.com
1) The Bedrooms 2) The Wine List 3) Oak Room Menu 4) Gift Cards